If the idea of exploring underwater mysteries gives you a buzz, you'd be delighted to know about incredible underwater diversity India has. From swimming in the turquoise water of Lakshadweep to watching colourful coral reefs of Andaman & Nicobar and getting up close to the shipwrecks in Goa to floating below the azure water of Karnataka and seeing Kaleidoscopic aquatic creatures waddling away, we bring you a list of Scuba adventures in India that awaits you off its 5000 miles of coastlines. So whatever sort of scuba diving you crave, these places are sure to deliver.

The underwater tranquillity, striking corals and the sea-life – all of these make for a life-altering experience. And if you think, you have to travel to far off places to experience this, we beg to differ. Here are the best places for scuba diving in India that will make fall head over heels in love with underwater adventures.
Best Places for Scuba Diving In India
Bangaram Island
What strikes your mind when you think of scuba diving? Clear water? Check, rich biodiversity? Check, serene atmosphere? Check Adrenaline rush? Check. Bangaram atoll promises to deliver all the things you can possibly imagine. Diving in Bangaram is sheer bliss with tiny aquatic creatures, colourful corals, and shipwrecks. Fulfil your fantasy of experiencing what it feels like to walk amidst lovely marine animals like sea horse, stingray, porcupines, parrots, puffer fishes and hermit crabs. The tiny atoll of Bangaram won't be a disappointment.
Agatti Island
Yes, this paradise for couples is also one of the best places for scuba diving in the country. Known for its tranquil and utterly clean beaches and calm atmosphere, Agatti Island continues to charm adventure seekers by offering them a unique experience that one cannot get anywhere else. Scuba diving in Agatti is enough to whet the appetite of the most demanding diving buff. Dive amid shipwrecks with cute turtles, and watch fishes move with the lightning-fast speed at Agatti. For an exhilarating experience, Agatti must be on your bucket list.
Kadmat Island
Kadmat in Lakshadweep is a great place for scuba diving as it has just perfect elements required for a hassle-free scuba diving experience be it- charming weather or low ocean currents. Not only this, but the island is thriving with tropical fauna and flora that you are unlikely to see anywhere else in the country. If this doesn't appeal to you, then its enchanting green water and pristine beaches will surely do. The place will unlock the adventurous soul inside that will change you to the core. If you dare to step into waters of Kadmat, brace yourself for a roller coaster ride as sharks and harmless turtles continue to swim right next to you.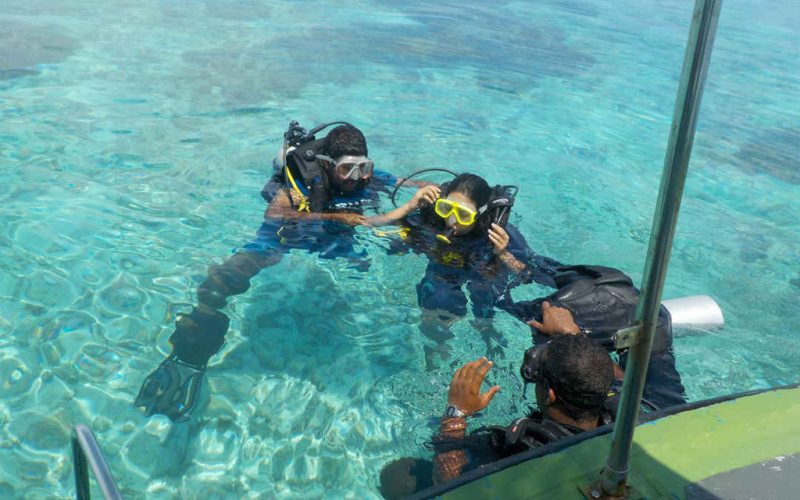 Havelock Island
Unchartered waters, exotic underwater terrain, steep wall dives, and exciting drift dives make Havelock one of Asia's most sought after scuba diving destination. You can effortlessly spot exotic marine life like lionfish, soft corals, humpback parrotfish, rare dugongs and sea cucumber besides lively corals and stunning white beaches. Havelock is a place that begs you to 'have-a-look' of its clear waters and low water currents that makes your dive stress-free and safe.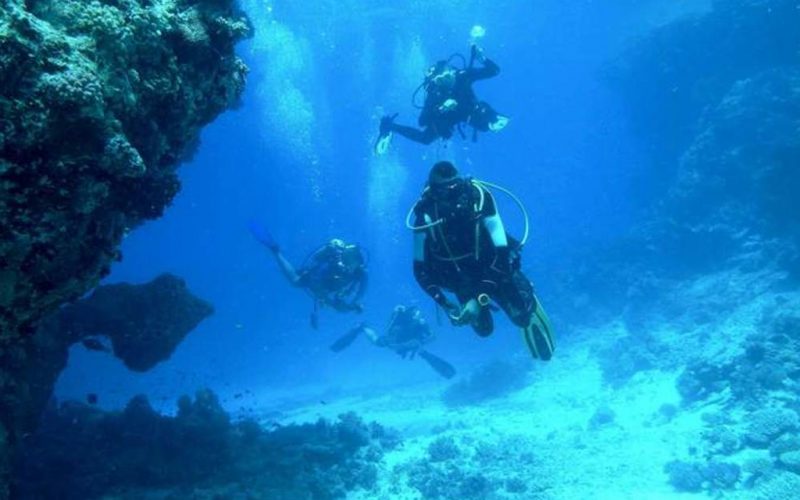 Neil Island
Neil Island is the most gorgeous island to scuba dive in India. The wonders of aquatic life, turquoise water and soul-satisfying views make this island the best spot for water sports adventures in the country. The island is a paradise for both divers and non-divers that offer a biodiversity one rarely comes across in a single place. Be ready to get a glimpse of some of the most beautiful sea flowers and a wide variety of corals as you plan your scuba vacation.
Grand Island
The shallow waters of Grand Island at Goa provide suitable options for scuba diving and other water sports for those seeking an adventurous getaway. Goa is already known for its stunning beaches and vibrant nightlife. But if you want to soak the essence of Goa then it's mandatory to feel the vividness of scuba dive at Grand Island. Surely you would not want to miss watching dolphins play in their natural habitat.
If you are an adventurous soul who wants to step out of your comfort zone, scuba diving at Grand Island promises to deliver just that. From tiny eye-catching corals to vibrant marine life, everything will make you feel an immense level of adrenaline rush as you set your foot inside water.
Kovalam
God's own country 'Kerala' too is famous for offering remarkable scuba diving adventures that don't dig a hole in your pockets while exploring the magical land with lush greenery and abundant wildlife. Kovalam in Kerala has become a hotspot for adventure junkies where they can lose themselves in the untouched and rich sea life.
There is an artificial reef nearby where you can catch a glimpse of fascinating and diverse sea creatures. Don't forget to give your scuba diving chapter a twist by experiencing Bond Safari, where an underwater scooter is used for scuba diving instead of traditional gears. Make sure to capture Puffer fish, Bluefin Trevaly, Box fish and Silver Moony on your camera lens.
Netrani Island
Located off the coast of Karnataka approximately 19 km away from Murudeshwar, Netrani Island gives a perfect setting for adventurous holiday that will bring a pause to your mundane life and take you for the most phenomenal experience you've ever had. Why travel abroad for underwater fun when Netrani offers you just the same and that too at affordable prices?
The island not only boasts of its rich diversity of fish life common to Goa and the Arabian Sea, but also known for regular sightings of Black Tip Shark, Stingrays, Stonefish, Great Barracuda and Turtles.  The best time to head to this place for scuba diving is between December and January as during this time ocean current is fairly low than the rest of the months.
Frequently Asked Questions
Does one require training to go for scuba diving?
Scuba instructors are there to help you with the essentials things demanded by this water sport. The training barely takes 15-20 minutes involving breathing exercises, how to use gears and basic gestures to show when inside the water. No special training is required for scuba diving.
Is scuba diving dangerous?
For people with respiratory illness and history, it is suggested to avoid scuba diving as it involves a lot of breathing under the high pressure of water. However, scuba is not a dangerous water sport. You can consult with your doctor before embarking on the adventure.
How do you breathe underwater?
Scuba diving is all about breathing slowly when you are underwater. Most of the time, your instructors suggest the techniques to use to breathe inside the water. You are also provided with an oxygen cylinder strapped on your back for breathing and other essential equipment as you go deep into seawater.
What is the cost of scuba diving in India?
Price for scuba diving in India is usually based on season, location and duration. For example, during peak season, you can expect to pay around INR 10000 for an hour of scuba diving. However, in some places, the prices for scuba diving for an hour can range from INR 3000 to INR 6000. You might want to do more research on which agents offer the cheapest diving adventures.
I don't know swimming, can I still scuba dive?
Who says you need to know swimming to scuba dive. Scuba diving needs no special training as you don't step into deep waters alone. A scuba instructor is there with you to supervise you as you explore the deep ends of the water and catch sights of magnificent fishes, dancing corals and exotic marine life.