1.NUBRA VALLEY, LADAKH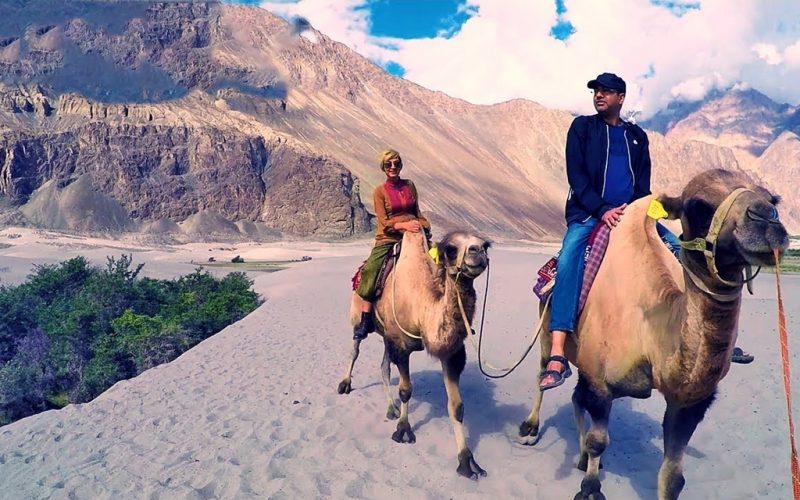 NUBRA VALLEY is situated north of LEH and KHARDUNG LA pass connects Nubra valley with Leh. It is about 20 odd KMs from LEH and you can visit the following places in the valley.
#. Bactrian camel safari
#. Panamik Village
#. Yarab Tso, Sumur
#. Diskit monastery, Lachung temple, and Hundur Monastery
#. Samstanling Monastery
#. Maitreya Buddha
Nubra valley is 100 km from the city of Leh and is a sight to behold. If you want to refresh your eyes and spend some time in the fresh air. It is a land of a long cold desert with a path to ride your favorite bikes. All you can see is clear blue skies as far as you can see. It is recommended to at least spend two days in the valley. You can easily find hotels and guests stays in the valley. However, if you want to get the most out of your adventurous trip settle up a camp stay for yourself for the clear starry night experience. Diskit is the administrative center for Nubra valley.
You can plan your trip in July and September. The temperature can go up to -4degree Celsius during these months. However, the summers are a bit warmer during March to May
If you are looking for Sheer isolation on an adventure, this valley is highly recommended.
2.MAYODIA, ARUNACHAL PRADESH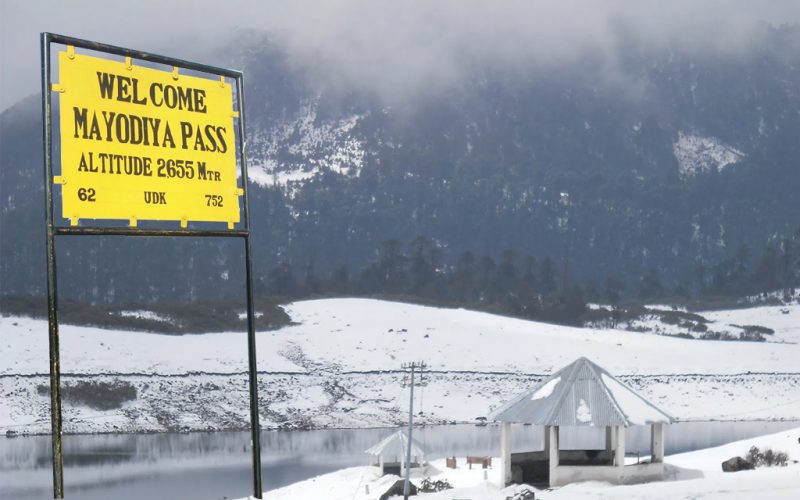 Never seen snow and wanted to be covered with it. This is your heaven. December and January are the go-to months for snow when it comes to Mayodia. A land of snow -clamped mountains and thick snow. It is on the borders of states of Arunachal Pradesh and Assam.
Though it is not a well-developed region for tourism, you might find some difficulty in finding a place to stay and food. But due to the rise in snowfall regularly, the government has started investing some funds to make it a tourist spot for everyone. By the time you decide to visit the snow, the government might take care of your food and stay there.
3.GOECHA LA, SIKKIM
It is very close to India's highest mountain peak KANCHENJUNGA. It is one of the best places for all the trek lovers. It will give you the amazing Himalayan or the view of 16 beautiful peaks from the Dzongri top.
THE TREKKING PATH:
YUKSUM TOWN
KANCHANJUNGA:
MOUNT PANDIM
KABRU
ROHTANG PASS
If you are looking for a complete natural view this trekking path would give you the best adventure ever. All of the paths consists of meadows, peaks, flowers, and forests. It is recommended to take almost 06 days to enjoy all of it what GOECHA LA offers. From the sunlit clear skies to the dark cold nights.
4.MANDAL, UTTARAKHAND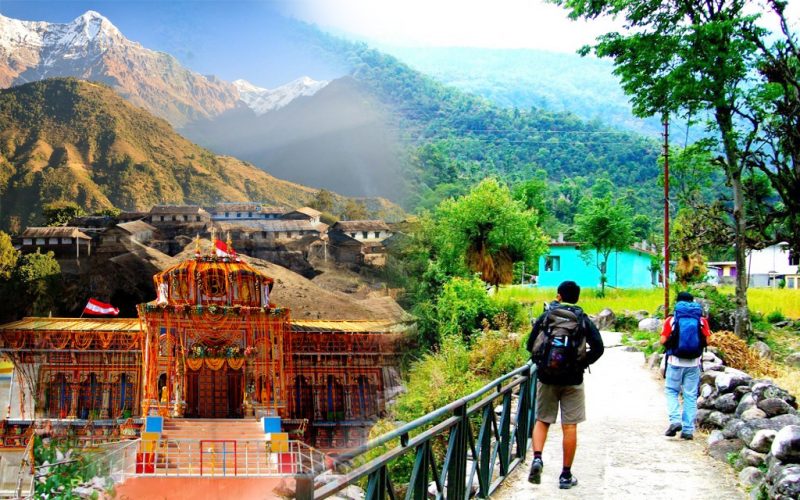 Very well known as The Gateway to Rudranath. It is located in the lap of the Garhwal Himalayas of Uttarakhand. It is situated in the Chamoli district of Uttarakhand and is 13 km away from Gopeshwar Town. There is a list of treks that Mandal Village offers you. Some are :
#.Rudranath Trek
#.Kalpeshwar Trek
#.Anusuya Devi Temple
#.Chopta
If you are planning any trek this vacation season, your starting point must be this small beautiful village Mandal. Filled with scenic beauty and the harmonious relationship between people and nature. It can give you a trailer of what all you are going to experience during your trek.
5.YUMTHANG VALLEY, SIKKIM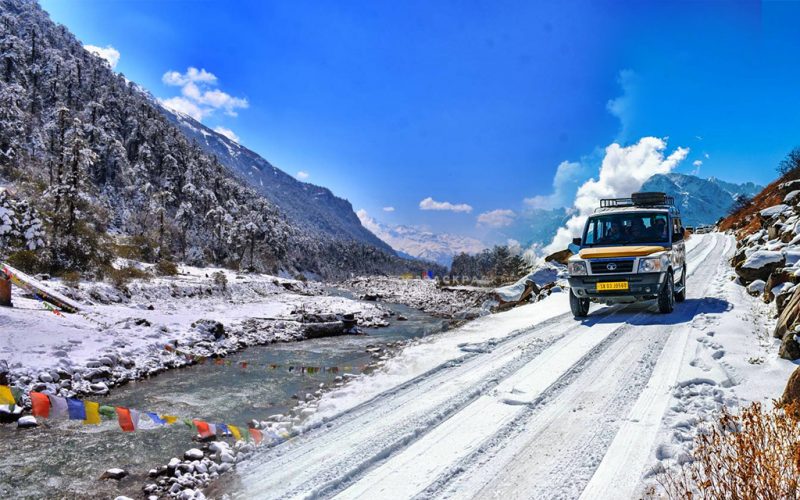 Widely known as the valley of flowers. Yumthang valley is a mix of all the colors of nature. From hot springs and rivers to meadows and grazing yaks. It is a place where all of the living creatures are living in harmony. It is an on-road visit and is a distance of 25 km from LACHUNG /LACHEN.
If you want to experience the full flourished culture and all the types of flowers and trees of the valley, the months from May to mid-September are said to be the best. However, the cold wold lay its hands from the last of October till mid-December.
Though this place does not experience screeching cold as other parts of Sikkim does. But if you are a flower pepper or a horticulturist or simply love flowers then this place is a must-visit.
This valley is on the Indo- China border then you might want to take your permits before you lose yourself in the magic of the valley.
6.TAWANG, ARUNACHAL PRADESH
In a desperate need of peaceful solitude, you are most welcome to TAWANG. It is famous for its 400-year-old monastery and it is the biggest in the entire country. Apart from its beautiful monasteries, the natural flora and fauna are also available in this piece of land to welcome you.
It is located in the northwestern part of the state, Arunachal Pradesh. It is adjacent to the border of Bhutan.
The best time to visit this region is June and October. However, if you want to make a snowman and play with snowballs, you can visit the place during December and January.
There is an annual festival celebrated in February and March which is rich in north-eastern culture and is called THE TIBETAN BUDDHIST FESTIVAL OF LOSAR.
7.CHOPTA VALLEY, UTTARAKHAND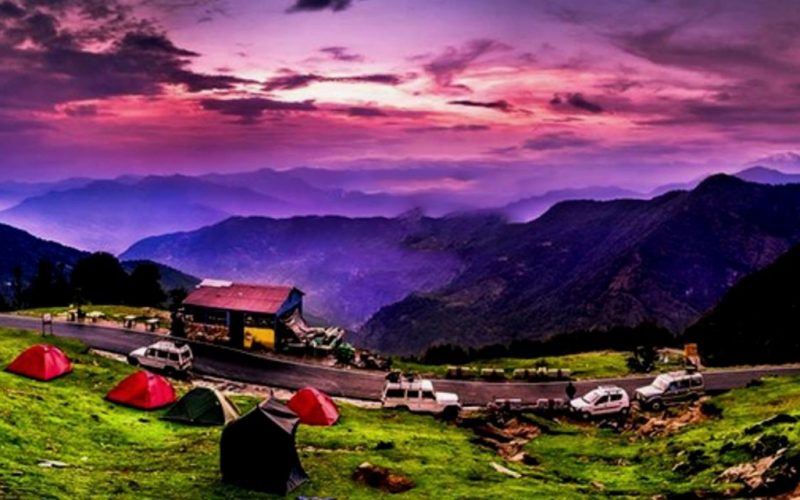 Every single soul who likes to go on a trip filled with solitude, CHOPTA VALLEY must be top on their list. It is a go-to place for all the adventitious and trek-lovers. This spot is away from any tourism traffic and visitor humdrum. Hence, is a perfect place for peaceful introspection. You can not keep your eyes off of the beautiful, natural gaze of the valley. CHOPTA VALLEY is also a base for trekking to TUNGNATH, third temple of Panch Kedar, which lies 3.5 kilometers uphill.
The other places to visit in the valley are Trishul, Nanda Devi, and Chaukhamba.
It is a place for all the people who love adventure sports and outdoor activities as this place offers camping, trekking, yoga, snow-skiing, rock-climbing, rappelling, etc.
You can also pay a visit to the Deoria Tal which is nearby and is a very famous lake surrounded by forests and dense pine trees.
The best season to visit during summer will be April and June while the temperature is 05-degree Celsius while in winter September and November are the best months to visit when the temperature is at -15 degrees celsius.
8.KAUSANI, UTTARAKHAND
With a total area of 5.2 sq km and situated at a distance of 51 km north of ALMORA. Lying in the lap surrounded by Trishul, Nanda Devi, Nanda Kot, and Panchhuli peak. Kausani is one of the few places which have phenomenal beauty. It also serves as a shrine for all the literature lovers as the great Hindi poetess Sumitra Nandan Pant lived here.
The best months to visit this lovely place in summers are April and June at the temperature of 15 to 30-degree celsius. However, the winter temperature can go up to the range of 0-degree celsius to -24 degrees Celsius from September to November.
9.MUNSYARI, UTTARAKHAND
Munsyari, is a hill station and lies at the base of the great Himalayan mountain range, at an elevation of about 2,200 m (7,200 ft)[1] and is a starting point of various treks into the interior of the range. If you want to relax in the lap of the mountain for some time. This is the best place to visit as this place would serve the clouds to you in your room. The places that you can visit here would be :
#. Birthi Falls
#. Maheshwari Kund
#.Panchachuli peak
#.Thamari Kund
#.Kalamuni top
#. Khaliya Top
You can reach here by train via two nearest stations which are Kathgodam which is 275 km away and Tanakpur which is 286 km away.
10.MALANA, HIMACHAL PRADESH
If you are up for a mysterious and peculiar place this vacation, go for this place. There are 03 mountain passes to reach the Malana Village. If you are in Himachal Pradesh, you can reach the village from Parvati Valley through Rashol and Chanderkhani Passes. But the best way to reach Malana is from Jari (23 Km), by hiring a taxi. There is a 4 km long easy trek which everyone has to take to reach Malana.
The most amazing thing about Malana is not natural beauty or anything but instead, it is the best cannabis that you can ever find. For others, it is their culture. Malanan people consider themselves the descendants of the Greek God Alexander the Great, and hence are of royal and pure blood. Everything could not be told about this village as yet but the facts are mind-boggling. Go-forth and find out yourself. And believe me, you can go there any time of the year.
11.BORONG : SOUTH SIKKIM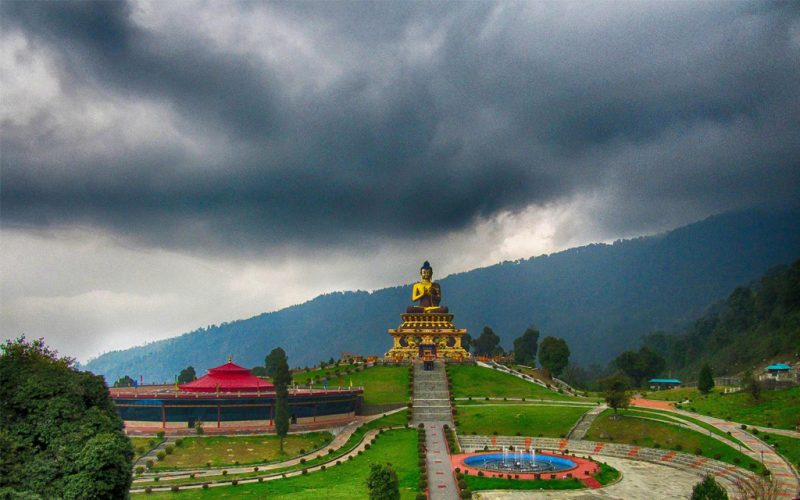 It is situated in the southern part of Sikkim, just 17 kilometers away from Ravangla. This is also a nice spot to see the mountain peak KANCHENJUNGA along with Narsing and Pandim. It is a bliss for all nature lovers and tourers. It is said to be the heaven for all the ornithologists as you can see different kinds of birds in this little piece of heaven.
Missing the hot showers, all you need to do is hike up the river Rangit for hot water springs. Feeling a bit of spiritual lately, you can visit the following monasteries in BORONG: Rolong monastery, Borong monastery, Vanjan Valley, Barmeli Bridge, and Fatam Village.