If you are a newly-wed couple who find picking a perfect destination for a honeymoon a tough nut to crack as your friends and family keep on suggesting different places to you, then you'll find this post really helpful. After all, your honeymoon is meant to be a romantic vacation with your beloved partner where you can not only enjoy each other's company in nature's calm but also explore places that leave a footprint in your heart.
We have highlighted the best international honeymoon places for couples where they can a spend memorable and romantic time together away from the crowding cities. Doesn't matter if you are about to get married or have already tied knots, these honeymoon destinations will rejuvenate your body, mind and soul. These places are bound to relive your stress after the hoo-ha of the wedding is over.
Croatia
Located across the Adriatic Sea from Italy, Croatia is a Mediterranean country that is swarming with pleasant sights and experiences that are still undiscovered even by the most seasoned travelers. However, this gem of a place is becoming a favorite among couples these days. Boasting stunning white beaches, ancient hill towns, cathedrals, historical sites, terraced lakes and waterfalls, this truffle and olive oil country is giving some major couple goals to lovebirds. Spending a romantic holiday here is equivalent to experience heaven on earth.
Whether you want to sail around on a yacht and soak Vitamin D under the clear blue sky or party hard, Croatia is the place to be. Take a stroll along the cobbled streets Dock and enjoy the romantic vibe of the place. Head to Korcula for a luxurious getaway, spend your day inhaling the aura vineyards and rustic villages. The mesmerizing land of Croatia will bring out the free spirit in you and your partner.


Seychelles
Whether you want to enjoy the transparent water or dive deep to capture corals dancing in the water or take a stroll through the pristine white beaches, the island of Seychelles is a dream come true destination for you and your partner. Abundant in natural beauty, Seychelles is a perfect romantic honeymoon place worth visiting once. The place has a magical touch that gently lifts one's mood and let the couple enjoy their intimate moments. Aside from that, there are plenty of options to keep young lovers occupied and experience the best that place has to offer. Go for snorkeling, meet the tiny baby turtles crawling to the oceans, visit coral gardens, no matter what you do, the island will not disappoint you and that's for sure.

Puglia
Who says Italy has become a crowded tourist destination? Perhaps you don't know about offbeat places that are waiting to be explored. Puglia is one of the best honeymoon places in the world where couples can dive into the pool of adventure and romanticism. If you wish to spend some 'quality' time with your better half, why not do it luxuriously? From saltwater pools to golf course that hugs the ocean, utterly beautiful traditional villages to sweeping view of the Adriatic, exploring the iconic Trulli buildings to devouring Mediterranean food, Puglia is a Pandora's Box that will make you fall in love with it.

Zanzibar
Zanzibar is another great lover's escape that is blessed with enchanting beaches, labyrinthine alley streets and amid bustling markets. This tiny island is the best place to enjoy a romantic vacation with your partner. The best part about this place is that it is not crowded and you can explore every nook and cranny of the island without any hassle. From its rich culture to forward thinking, Zanzibar will shower you with surprises at every step. Grab your partner and head to the beach to see nesting spots of sea green turtles, snorkel in the clear water, and work on getting that tanned body beneath the smiling sun, what more could you possibly want? Zanzibar is the place to be for those who wish privacy and want to celebrate their love amidst tranquility.

Fiji
Surrounded by blue lagoons, coral reefs and sandy beaches, Fiji is an ideal honeymoon spot for couples to kick start their married life. From watching the sunset together to adrenaline-pumping activities, Fiji is a place that is a thousand times better than hopping five-star hotels in the crowd of the cities. As a newly-wedded couple, you'd want to have privacy amidst the raw beauty of nature. What's best than experiencing the warmth of nature by honeymooning in a tropical island gives you a truckload of things to do such as- snorkeling, scuba diving, trying tropical cuisine, dancing under the starlit sky and what not! Relax and pamper your partner with love in the tropical bliss after all your honeymoon is meant to be special.

Copenhagen
Looking for a romantic place to make your beloved feel special? Head to Copenhagen and you would know why it is loved by newly-wedded couples. Take a long walk along the cobbled-streets of Copenhagen or enjoy a candlelight dinner near the waterways or cycle around the city to know Denmark's rich culture and history, there won't be a single moment that will stress you. Famous for its squeaky clean canals, half-timbered villages, colorful landscape, happy and welcoming locals and cycling culture, Copenhagen is a quaint city that will make you visit it over and again.

Madagascar
While you might have heard how much fun it is to spend a holiday in the African wilderness. But you'd be shocked to know that Madagascar has lately become a trending honeymoon destination for couples to express their profound love for each other. If the naked beauty of nature, the call of the wild doesn't attract you towards it, then its deserted sandy beaches, open savannah, highlands, and dense rainforest will most certainly do. Book a honeymoon package to Madagascar and explore the culture of the land with your one and only.

Slovenia
Honeymoon becomes blissful when you are surrounded by ethereal mountains, idyllic lake, rustic wilderness, and landscape that awe-struck you. Slovenia is one such place where you're bound to get lovey-dovey feelings and celebrate your new life together on a fresh note. Explore the Cliffside castles, spend a few days in ski resorts and pump up your adrenaline, head to the idyllic lake Bled, have a fun time chatting with friendly locals. This land with glorifying tales, museums, modern architecture and mesmerizing landscape is giving tough competition to some of the most exotic romantic places in the world.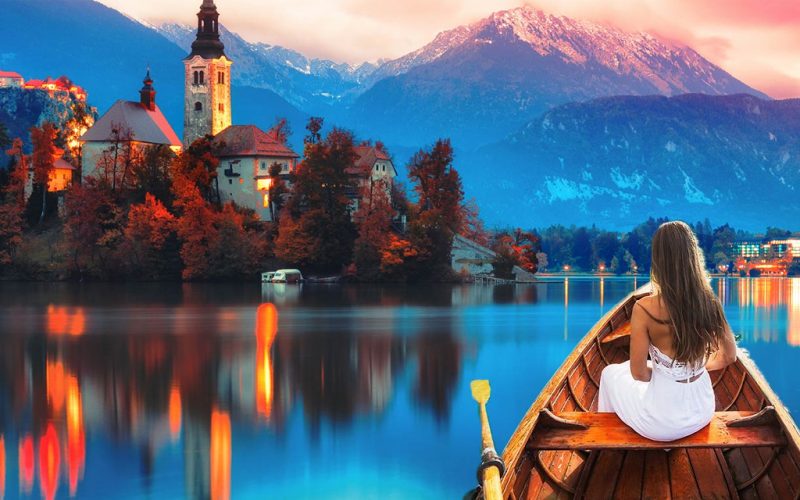 Aruba
You might have heard of 'Aruba' if you have ever watched Friends. The place where Rachel was supposed to go on her honeymoon with Barry, but fate intertwined and she ended up missing visiting the place. Well, if you think you can cross-off Aruba from your list of honeymoon places, you'd be regretting your decision. Aruba with its nearly-perfect weather and extremely bewitching beaches will put its spell on you as you land into the place. You can enjoy serenity by soaking sunlight or simply enjoy water sports, there are enough beaches to keep you entertained and occupied.

Turks and Caicos Islands
Looking for the perfect antidote to relive the hoo-ha of the wedding and start your married life afresh? Rush to the Turks and Caicos Islands and you'd understand why it is considered among top honeymoon destinations in the world. If the idea of devouring scrumptious and crispy conch fritters on a beach is making you drool, then you'd be in for many more surprises. From walking along the stark-white beaches to clicking postcard-perfect pictures, exploring the coral islands to relishing therapeutic body massage, Turks and Caicos Islands open up a world of exciting honeymoon escapades and adventures you can't possibly resist. Moreover, the luxurious Yacht excursions are worth experiencing with your partner.

If you have explored these destinations, feel free to share your adventures and experiences with couples who are planning to book their honeymoon package in the near future. Drop a comment and let us know how your trip went.