Alaska is a dream destination for most people in the ultimate sense. It boasts of fascinating attractions, from wonderful national parks to native museums and historic gold rush sites. Considered as quite an expensive holiday destination, Alaska is worthy enough of travelling at least once in a lifetime. Whether you are planning your first trip to this wonderland or adding it to your bucket list for next adventurous vacation, there are tons of things to do in Alaska so much so that it is easy to get confused on what to try first and what not.

Once the phase of Coronavirus is over, you are likely to resume your travel plans. This is the reason why we have compiled a list of five essential things to enjoy on Alaskan trip. Make sure that you don't leave any of the listed activities on standby and get too much engrossed in sightseeing when exploring Alaskan wilderness.
Viewing Aurora a.k.a The Northern Lights
Just in case, you happen to visit Alaska in winters, would you want to miss the spectacular phenomena of the northern lights? No, you won't. But before you prep yourself to witness the absolute magnificence of nature, make sure to check the weather forecast as there's never guarantee that you can see aurora on any particular night. Remember that the higher the latitude, the higher the chances of witnessing this polar phenomenon. Northern light trips are generally best made in the late winters. The dancing swirls of blue, green, pink and yellow shimmering across the night sky is a moment to be photographed.
Watching whale wadding in Alaskan waterways
If you haven't done whale watching in Alaska, you haven't really explored it. Whale watching is a popular tourist activity in Alaska. During summer, the water around Alaska's coastlines gets a new lease of life when sea birds, whales, orcas and other marine life mark their appearance. There's no shortage of wildlife to watch in Alaska. The highlight of the season is witnessing the migration of whales like belugas, humpback from Hawaii to Alaska. Now who would want to miss catching a glimpse of a breaching humpback or a pod of orcas when on a trip to Alaska?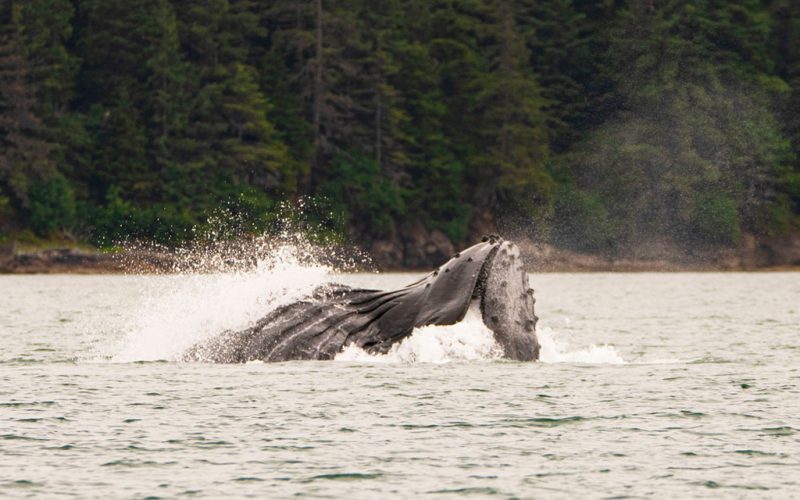 Cruising
Alaska is as big as it is wild and it's impossible to explore its wilderness in a few days. But when you are on a mini-vacation, cruising your way through the land is the best way to cover up the place in entirety. It doesn't matter whether you board a giant ship or a tiny one, there are plenty of options to help you navigate Alaska's passage. Booking a cruise brings you alongside wildlife and glaciers with panoramic views visible from the decks of the ship. When it comes to the time of year to take a cruise in Alaska, you're left at the mercy of nature. Due to the extreme winters, cruises to Alaska are only available from the end of April through beginning of October. Make sure you book well in advance to avoid inconvenience.
Flightseeing
Imagine getting around Alaska by flying up in the air? Sounds dreamy, right? Knock, Knock, it's not a dream as there are a few spots in Alaska that are only reachable by plane. You can book a helicopter ride to such spots to enjoy the sights. The views of the tallest mountains, tiny villages, waterways, and awe-inspiring landscapes are worth dying for. You will never see a more enthralling view from the sky like you do in Alaska when opting for a flight to explore the land.
Dog sledding
If getting pulled by a dog alarms you, then you'd be shocked to see that dog sledding is actually an activity to do in Alaska. These sled dogs are exceptionally trained for dragging heavy weights from even the narrowest way. This unique outdoor activity is enough to pump your adrenaline rush. Dog sledding is available round the year. Hence, it would be unfortunate to miss this activity when on a trip to Alaska. Don't forget to click a few candid shots holding pups in your hand.