To flatten the transmission curve and help a frayed healthy system cope with a building number of COVID-19 cases, the government of India has finally imposed lockdown in the country starting 25th March 2020. Many states have imposed Section 144 of the criminal procedure code that prohibits the assembly of five or more people, holding public meetings and carrying firearms. Violators are charged with unlawful assembly when section 144 is brought in force. To avoid such a situation, here's what you must know about the lockdown and prepare yourself for what comes next.

What is a Lockdown?
During a lockdown, people are advised to stay wherever they are, preferably at home. One only moves out for emergencies. Essential services such as hospitals, pharmacies, and grocery stores remain open during a shutdown. This way, a lockdown ensures physical distancing of people, suspension of rail and inter-state bus services, closure of public places and cessation of non-essential activities during a pandemic to curtail its spread.
India has reported over 400 confirmed cases of Coronavirus so far. Bearing the situation of Italy and China in mind, India is gearing up to curb the disease as much as possible. A lockdown ensures that healthy people do not come in contact with the Coronavirus infected person since the infectious disease is transmitted in a chain-like manner. As the cases are increasing, both central and state governments decided to lock down 80 districts where COVID-19 cases are being reported.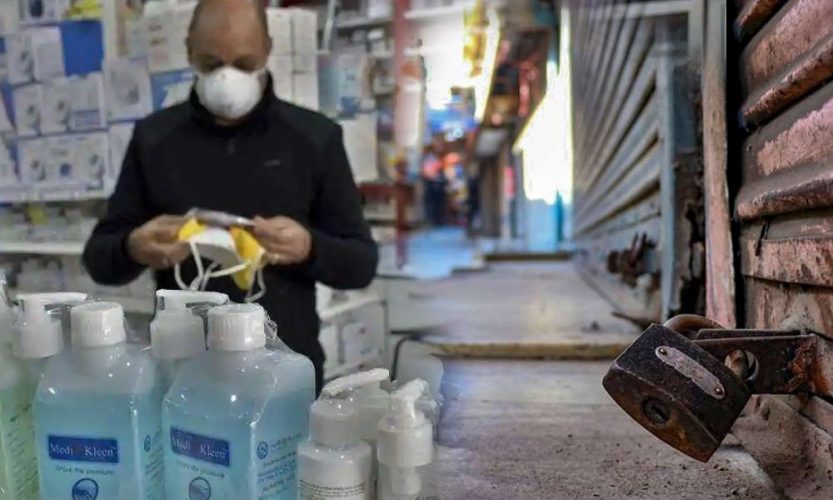 You need not fear a lock down as it is an emergency protocol that ensures people do not leave an area till the lockdown is revoked. India has gone under complete lockdown. A full lockdown mean that you cannot leave or enter a building or an area and must stay where you are. Prime minister has said that the complete lockdown will remain imposed till 14th April and urged citizens not to step outside their home during this phase.
Why You Should Stay At Home?
Experts warn people that the phase three and four of this virus is extremely critical as in Italy number of death toll increased 7 times in a week alone. India which comes second in the world when population is considered is at more risk than ever before. India can win this fight against the deadly Coronavirus only through social distancing. Since citizens were not paying attention to this, complete lockdown was the only solution experts could advise to contain the spread of the virus.
Quoting statistics by the WHO, PM Modi said that the virus is spreading more rapidly as it took 60+ days to spread to one lakh people. Even the countries with world class healthcare systems are struggling. If citizens do not take this lockdown and social distancing seriously, then India will be setback by 21 years.
What Will Remain Closed?
Here's what will remain shut till the lockdown is revoked:
All schools, colleges where the lockdown is in effect
Inter-state trains and buses
Local trains and metros
What Essential Services Are Exempted?
Essential activities including visiting a doctor for a check-up, picking up medical supplies, going on a walk are permitted as long as you are following social distancing. Anyone who breaks the rule (under Section 144) could be imprisoned or fined by the law enforcement authorities, wherever the section is imposed.
Hospitals and pharmacies
Police and fire stations
Grocery shops, ration shops, fair price shops, banks and ATMs
E-commerce of essential goods including food and medicine
Municipal services like water and electricity
Media, print and electronic news
Milk and general provisional stores
Offices related to the functioning of the government
Take away and home delivery services in restaurants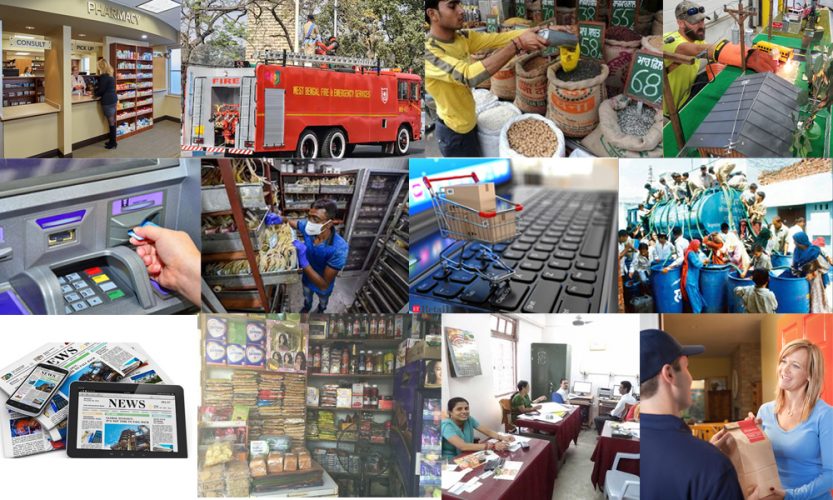 Do You Need To Worry About Your Job?
If you are all stressed on what will happen to your job, you need not fret and the government has advised private and public companies to not cut salaries or sack employees amid Coronavirus outbreak. Terminating employees will only deepen the crisis and is not a solution to the problem the world is facing. The need of the hour is to do everything we can to keep ourselves safe and sound.
Keeping in mind the advisory, most private offices have already shut their premises and permitted their employees to work from home so that business can operate smoothly. Although, there are some exemptions for some government employees, medical professionals and media services who are serving the nation in these challenging times.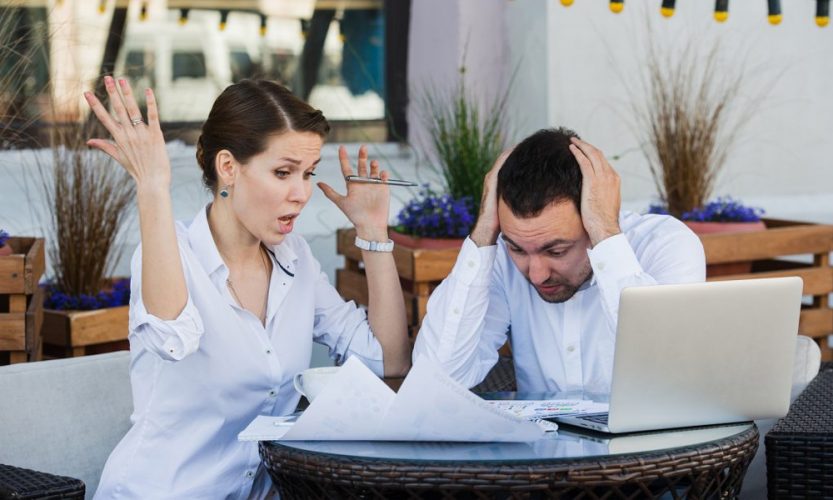 How to Commute During a Lockdown?
During a lockdown, you are advised to stay at your home and avoid unnecessary travel. Only travel when it's an emergency, otherwise, avoid travelling when a complete lockdown is in effect.
Panic Buying- Is Stocking Up Essential Items Necessary?
Hearing the scale at which Covid-19 is spreading and even taking lives, people are resorting to panic buying necessary items and leaving others (in need) empty-handed. The lockdown will not affect certain essential activities including buying groceries, medicines etc. So avoid buying all the stuff you see in a supermarket. Stocking up essential items should be considered only when you are in self-quarantine. This way, you'd be helping others in sustaining the global crisis.
Different Measures Taken So Far
Given below are some measures taken by both the central and state governments to tackle the menace of Coronavirus in India–
The government has imposed restrictions on air travel.
Public places including cinema halls, malls, shopping complexes, museums are closed.
Restrictions on wedding functions in Delhi, Kerala, Jammu and Kashmir, MP and Goa.
Many states including Telangana, Madhya Pradesh, Chhattisgarh, Punjab, Meghalaya and Kerala have postponed state board exams.
OLA and UBER have suspended their cab booking services till the lockdown period is over..
Rail services have been discontinued.
Most private and public sector organizations have given work from home facility to their employees.
The central and state governments have announced relief packages for daily-wage workers and other temporary workers.
Last week, a complete lockdown was imposed in 75 districts throughout the country.
Recent: The government has allocated Rs. 15,000 Cr for health infrastructure including testing facility, personal protective equipment, isolation bed, ICU beds, ventilators and paramedical training.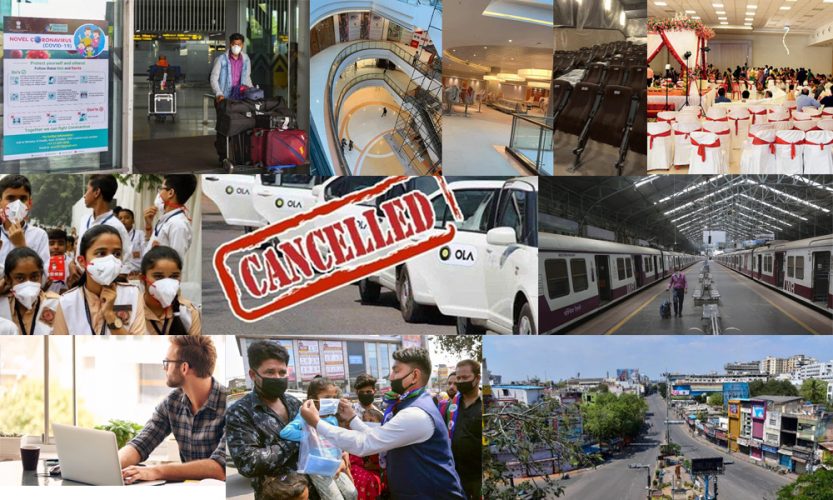 Districts under Complete Lockdown Last Week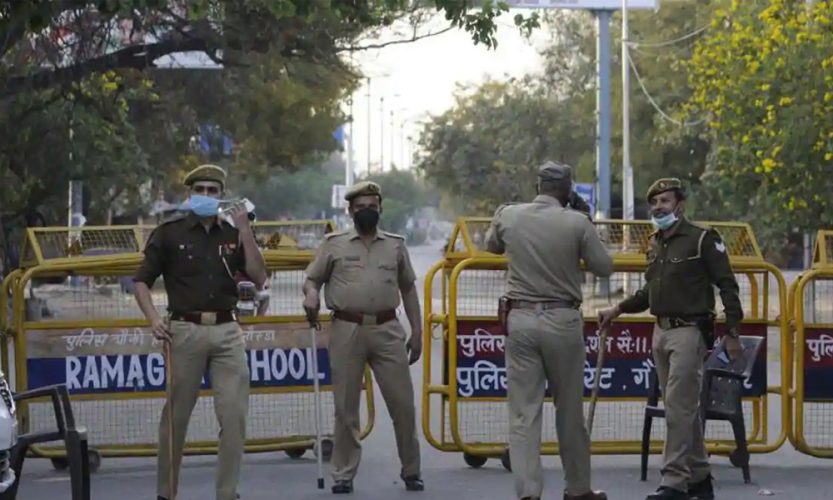 State
District
State
District
Haryana
Faridabad
Kerala
Alappuzha
Jhajjar
Ernakulam
Sonipat
Idukki
Panchkula
Kannur
Gurugram
Kasargod
Panipat
Kottayam
Rohtak
Mallapuram
Himachal Pradesh
Kangra
Pathanamthitta
UT of J&K
Srinagar
Thiruvanthpuram
Jammu
Thrissur
Karnataka
Bangalore
Delhi
Central
Mysore
East Delhi
Kodagu
North Delhi
Kalaburgi
North West Delhi
Chikkaballapura
North East Delhi
Andhra Pradesh
Vijaywada
South Delhi
Vizag
West Delhi
Prakasam
Gujarat
Ahmedabad
Punjab
Chandigarh
Kutchh
Chhattisgarh
Raipur
Gandhinagar
Rajasthan
Bhilwara
Surat
Jhunjhunu
Vadodara
Sikar
Rajkot
Jaipur
Telangana
Hyderabad
Tamil Nadu
Chennai
Bhadradri Kothagudam
Erode
Medchai
Kanchipuram
Ranga reddy
Uttar Pradesh
GB Nagar
Sanga reddy
Agra
Uttarakhand
Dehradun
Varanasi
West Bengal
Kolkata
Ghaziabad
North 24 Parganas
Lakhimpur Kheri
Lucknow