Coronavirus has been in headlines for the last two months. The severity of the outbreak has made it deemed as a pandemic by the World Health Organization (WHO). People all over the world are taking necessary measures to ward off the disease. But do you know that your mobile phone can also infect you? Mobile phones are also a common breeding ground of germs that can give you this abominable disease. So naturally, you'd want to know how to disinfect your smartphone safely so that you can defend yourself against the pandemic. Since the virus isn't showing any signs of letting go, it's better to keep yourself protected. Here are the correct ways to clean and disinfect your phone to prevent the spread of Novel Coronavirus.
How to Clean Your Phone to Prevent Covid-19
While alcohol-based sanitizer might sound tempting option to clean your phone, it would be a foolish thing to do. Since alcohol, soap or other strong chemicals can easily damage your phone's outer coating, you must refrain from doing so. The outer coating of your phone protects it from your fingerprints and smudges. So what to use to clean your phone? Use UV light to kill the germs and bacteria off your phone. Don't want to invest? Worry not. you may also make your own sanitizer at home. Make sure to wash your hands on a regular interval. Here's the step by step procedure on how to clean your phone during Coronavirus pandemic–
• Check if there is a specific phone cleaner made for your phone and use it (since different phones can handle different cleaners). For e.g, if you own an iPhone, you can use Clorox disinfectant wipes to disinfect your smartphone.
• Unplug the cables and switch off your phone
• Remove the outer covering (back cover) of the phone
• Take a clean, soft and dry cotton fabric, damp it and wipe the screen and surface of your phone
• Let the surface dry and then only use your phone (but make sure you wash your hands before touching your phone too!)
• Do make a habit of cleaning your phone this way at least four-five times a day.
Note: If you intend to use a disinfectant spray to clean your sanitize your phone, make sure to spray it on a dry cloth first and then wipe your phone with the same cloth.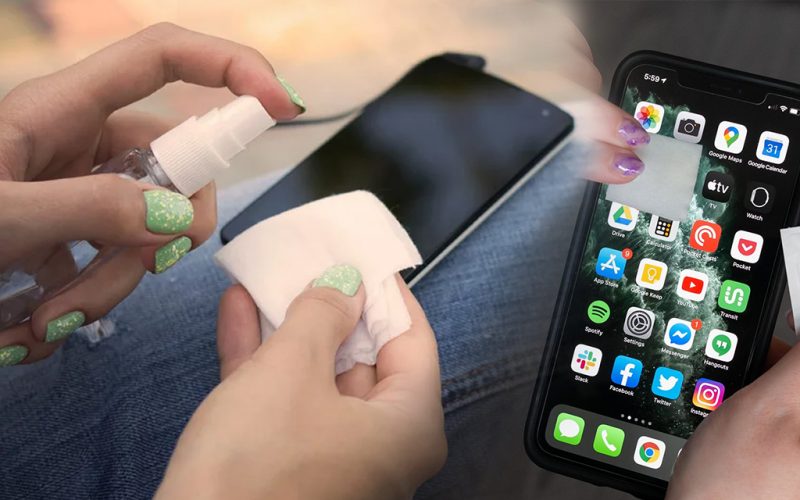 Avoid
• Dripping water or moisture in any openings
• Using tissues or napkins to wipe the screen or it may cause abrasion
• Replacing tempered glass cover each time you clean your phone as cleaning the surface of the glass will suffice alone.
• Rubbing the soap on the surface of your phone
• Leaving your phone on charge when cleaning it.
While cleaning your phone might look like a small step in preventing the disease, it's still the best way to avoid the epidemic altogether. Do keep in mind to clean your earphones/plugs and headphones after you're done sterilizing your phone as they too can spread the virus. Nonetheless, practicing regular cleaning of your phone is one of the best defenses against this illness.