As the number of Coronavirus cases continues to increase, countries are imposing travel bans to the tourists as a precautionary measure. As of now, the number of deaths caused due to Coronavirus has globally crossed 6000 with 160000+ confirmed cases of the pandemic. The United States State Department has recently released a list of countries that have imposed travel bans to prevent the spread of Covid-19. Amid the pandemic, meeting with friends, worshipping, dining, and other daily routines have nearly halted as governments all over the world have advised people to avoid public places or gathering to contain further spread of the disease. Here's the list of travel restrictions laid down by different countries all over the globe.

Europe
Austria: Citizens from outside EU will have to produce a medical certificate confirming negative test results for Covid-19 on their entry to the country. The medical certificate (should be in English, German, Italian or French) must be dated within 4 days of arrival and must be signed by a licensed medical practitioner.
Croatia: Travelers arriving from regions such as Iran, Italy and China must have to spend 2 weeks in the quarantine facility at their expenses.
Czech Republic: Travellers from 'high-risk' countries' are banned from visiting the Czech Republic. It has also restricted Air travel and banned transports like trains, buses and boats to Germany and Austria.
Denmark: Borders are closed for foreign nationals until further notice.
Germany: Germany has closed its borders with Austria, France, Denmark, Switzerland and Luxembourg.
Italy: The country has suspended flights from China and Taiwan. All the passengers are screened at the airports as a preventive measure.
Netherlands: Flights from 'high-risk' countries such as China, Italy, Iran, Hong Kong, and South Korea are banned.
Norway: Travellers are advised to stay in quarantine for at least two weeks before they arrive in the country.
Poland: The country has suspended international rail and air services and has banned foreigners from entering it until further notice. Polish citizens returning from abroad are asked to stay in quarantine for two weeks.
Russia: The Russian government has banned Chinese nationals from entering it and has restricted air travel with European Union, Norway and Switzerland. The government has also planned to close its border with Poland and Norway to foreigners.
Slovakia: The country has asked travellers to remain in quarantine for 14 days and has closed all three international airports. Additionally, international bus and rail services have also been suspended.
Turkey: The country has suspended flights to and from Belgium, China, Denmark, Austria, Azerbaijan, France, Italy, the Netherlands, Norway, Germany, Iran, Iraq, Spain, Sweden and South Korea. Those who were present in these countries in the last 14-15 days are barred from entering excluding Turkish citizens who are asked to stay in quarantine.
Ukraine: In the light of Coronavirus disease, Ukraine has so far suspended all travel services including air, train, and bus to and from it. Starting from 16th March, all foreigners are barred from entering the country.
Middle East
Israel: Foreign nationals are denied entry to the country except in case where they have a place to stay and are ready to go into 14 days of isolation. The exception doesn't apply to travelers coming from high-risk countries including Egypt, Macau, Singapore, Japan, China, Italy etc.
Jordon: From 17th march, the country is suspending all flights and closing its borders to travelers.
Lebanon: All flights to and from Italy, China, Iran and South Korea have been suspended.
Saudi Arabia: From 15th March, all inbound and outbound international flights have been suspended for two weeks.
Australia and New Zealand
Australia: All international travellers will have to stay in isolation for 14 days. The government has also announced a ban of 30 days for cruise ships arriving from the international ports.
New Zealand: Self-isolation of 2 weeks is advised for all incoming travelers.
Asia
China: Travellers are kept in quarantine facility. However, international travelers are being evacuated from severely hit regions.
India: Indian government has suspended most travel and tourism Visas. Only diplomatic, official, UN or International organizations, employment and project Visas are allowed.
Singapore: Visitors with a travel history to France, Spain, Germany, and Italy within the last 14 days are not allowed to transit through Singapore. Citizens are served with stay-at-home notice for two weeks.
Japan: The country has banned all international tourists especially Chinese passport holders and those who have travelled regions affected by the virus from entering it.
South Korea: Chinese passport holders aren't allowed to enter South Korea and anyone who has visited the outbreak affected region is required to go into isolation.
Thailand: Travelers headed to Thailand from China, Hong Kong, Macau, and Korea have to present a health certificate from a licensed medical practitioner confirming a negative Coronavirus test when checking before their flight. Travelers also need to show their insurance proof and a cover of a minimum of $100,000. Strict vigilance and screening are being carried out at the airport.
Vietnam: The country has refused visitors from the Schengen area and Britain.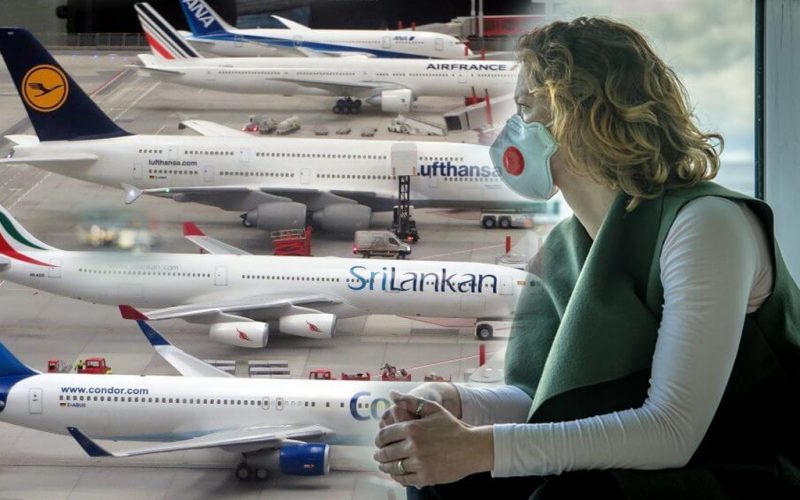 America
Argentina: All flights from Europe and the USA are suspended for 30 days. Travelers returning from severely hit areas will be required to go into isolation for 14 days.
Brazil: Not imposed travel restrictions yet. However, people are advised to stay at home for 7 days or seek medical help if they develop flu-like symptoms.
Canada: Travelers who have visited China, Italy and Iran are advised to keep themselves in isolation for 14 days
Colombia: Will bar entry to travelers who have been in Europe or Asia within the last 14 days. Colombians who have returned from the affected area are to be kept in isolation for 14 days.
El Salvador: Entry to all foreign travellers is barred.
Guatemala: Citizens of the USA, South Korea, Canada, Italy, France, UK, China and Iran are barred from entering it.
Mexico: No travel restrictions have been imposed so far.
Peru: The country has announced that it will suspend all air services from Asia and Europe.
USA: United States of America has banned foreign nationals who had visited China, European countries and Iran during previous 14 days from entering it. The ban applies to Europe's Schengen area.
Uruguay: Travelers arriving from China, Japan, Singapore, South Korea, Spain, Italy, France and Germany are ordered to go into quarantine for 14 days.
Venezuela: Suspended all flights from Colombia and European countries for a month.
Source: www.nytimes.com